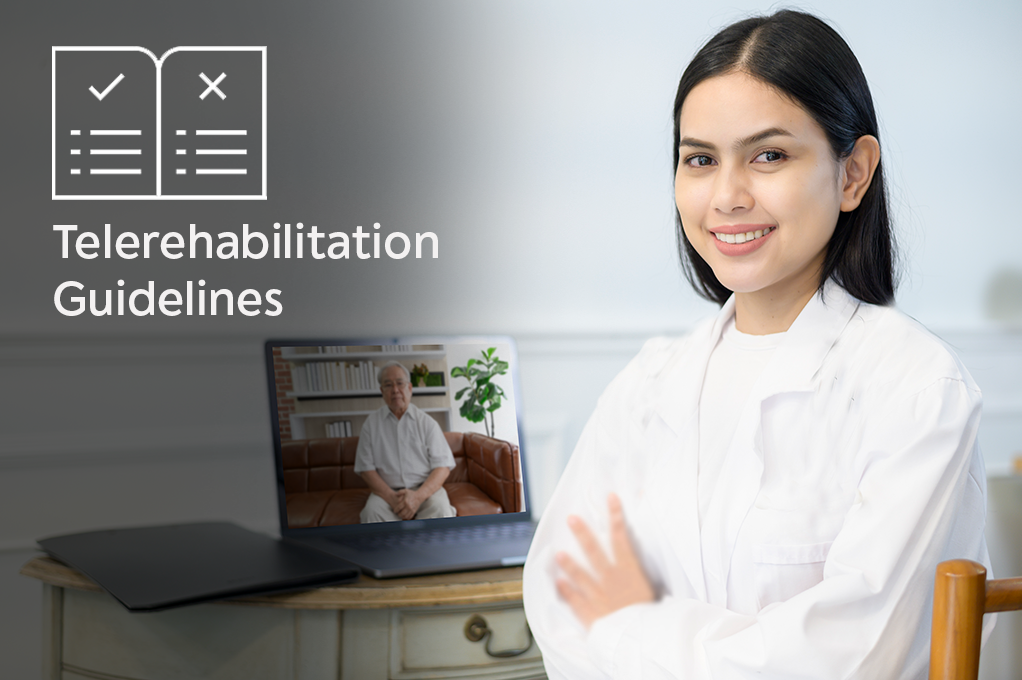 Introduction to Telerehabilitation
Telerehabilitation refers to the delivery of rehabilitation services via information and communication technologies. Clinically, this term encompasses a range of rehabilitation services that include assessment, monitoring, prevention, intervention, supervision, education, consultation, and counseling delivered to adults and children by a broad team of physical therapists, speech-language pathologists, occupational therapists, audiologists, rehabilitation physicians and nurses, rehabilitation engineers, assistive technologists, teachers, psychologists, and dieticians depending upon the client needs.
Telerehabilitation has the capacity to provide service across the lifespan and a continuum of care. Just as the benefits and providers of telerehabilitation are broad, so are the points of service, which may include health care settings, clinics, homes, schools, or community-based worksites.
Understanding the need for telerehabilitation guidelines
The Telerehabilitation Special Interest Group (SIG) of the American Telemedicine Association (ATA) comprises practitioners in health and education and technology specialists engaged in applying telecommunications and health information technologies to improve access to rehabilitation and educational services and to support independent living. A document was developed collaboratively by members of the Telerehabilitation SIG, with input and guidance from other practitioners in the field, strategic stakeholders, and ATA staff with the purpose to inform and assist practitioners in providing effective and safe services that are based on client needs, current empirical evidence, and available technologies (1)
The material in this guide addresses general principles and not specific practice guidelines for telerehabilitation and is not intended to replace the primary practitioner's clinical, educational, or technology decision-making about the appropriate course of action/management of any client.
Key principles of Telerehabilitation
The document put together by members of the Telerehabilitation SIG represents key administrative, clinical, technical, and ethical principles that should be considered in providing telerehabilitation services. These principles are based primarily on the American Telemedicine Association's Core Standards for Telemedicine Operations and describe additional considerations across telerehabilitation applications and related fields.
Administrative principles of Telerehabilitation
• Organizations or professionals shall comply with national, state, local, and other credentialing, privileging, and regulatory requirements for licensure, certification, and the use of telerehabilitation.
• Organizations and/or professionals shall be aware of their locus of accountability and any requirements (including liability insurance) that apply when practicing telerehabilitation.
• If required, organizations and/or professionals shall use billing and coding processes that designate that telerehabilitation services have been provided (e.g., through the use of a modifier) as required per guidelines of the payer.
• Organizations and/or professionals shall have traceable documentation that a telerehabilitation session occurred with a client.
• Organizations and/or professionals shall be aware of the advanced requirements for privacy and confidentiality associated with providing services through telehealth technology at both the originating site and remote setting.
• Organizations and/or professionals shall determine requirements for documentation, storage, and retrieval of client records to protect the client's personal health information by federal and state regulations (e.g., HIPAA, FERPA, etc.)
• Organizations and/or professionals shall have a mechanism in place to ensure that clients are aware of their rights and responsibilities regarding accessing health care via telehealth technologies, including the process for communicating complaints.
• Organizations and/or professionals shall ensure that an appropriate facilitator is available when necessary to meet client and provider needs before, during, and after the telerehabilitation encounter.
• Organizations and/or professionals engaged in telerehabilitation research shall ensure the protection of participants in research protocols approved by the local Institutional Review Board(s) and comply with relevant legislation, regulations, and other requirements to ensure the safeguarding of Protected Health Information.
• Organizations and/or professionals shall ensure they have appropriate technical expertise during the planning and start-up phases of a telerehabilitation program while taking appropriate measures to familiarize themselves with equipment and safety issues with client use.
• organizations and/or professionals shall have a systematic quality improvement and performance management process that complies with any organizational, regulatory, or accrediting requirements for outcomes management.
• Organizations and/or professionals that engage in collaborative partnerships shall be aware of applicable legal and regulatory requirements for appropriate written agreements, memorandum of understanding, or contracts based on the scope and application of the telerehabilitation services offered.
Clinical principles of Telerehabilitation
• Professionals shall be guided by existing discipline and national clinical practice guidelines when practicing via telehealth.
• Professionals shall have the appropriate education, training/orientation, and ongoing continuing education/professional development to ensure they possess the necessary competencies for the safe provision of quality health services, including competence in the use of equipment, as well as considerations related to clients with cognitive, physical, or perceptual impairments..
• Delivery of services via telerehabilitation, whether interactive or store-and-forward, may require modifications to treatment material, techniques, equipment, and setting, including using additional support staff at the remote site to assist the client with physical activity or perform a hands-on assessment, digitally reproducing treatment materials for delivery via data sharing or presentation tools, or temporary modification of client environment.
• Professionals shall ensure that all persons in the therapy room at both sites are identified to all participants before initiation of the telerehabilitation session.
Technical principles of Telerehabilitation
• Organizations and/or professionals shall ensure that equipment sufficient to support diagnostic and/or treatment needs is available and functioning properly at the time of clinical encounters.
• Organizations and professionals should comply with relevant laws, regulations, and codes for technology and technical safety.
• Organizations and professionals should comply with federal and state regulations for the protection of client's health information and ensure the physical security of telehealth equipment and the electronic security of data storage, retrieval, and transmission.
•Organizations and professionals should ensure that all telehealth equipment personnel to deliver information or services are trained in equipment operation and troubleshooting.
•Organizations and/or professionals shall have strategies in place to address the environmental elements of care, including the physical accessibility of the treatment space and the usability of equipment..
•Organizations and/or professionals shall have infection control policies and procedures in place to use telehealth equipment and client peripherals that comply with organizational, legal, and regulatory requirements.
Ethical principles of Telerehabilitation
The use of telehealth technology to deliver rehabilitation services requires consideration of professional, ethical principles.
Organizations and professionals that adhere to ethical principles of telerehabilitation shall:
• Incorporate organizational values and ethics into policy and procedures documents for telerehabilitation
• Comply with professional codes of ethics
• Inform clients of their rights and responsibilities when receiving rehabilitation through telehealth technology, including their right to refuse
• Have in place a formal process for resolving ethical issues as well as policies that identify, eliminate, and reduce conflicts of interests associated with the provision of telerehabilitation services
Importance of these principles
These principles provide clear guidelines in every arena of telerehabilitation practice and ensure the safety of the clients and health care providers, helping them provide the best possible telerehabilitation services.
Reference
Brennan, D., Tindall, L., Theodoros, D., Brown, J., Campbell, M., Christiana, D., ... & Lee, A. (2010). A blueprint for telerehabilitation guidelines. International journal of telerehabilitation, 2(2), 31.