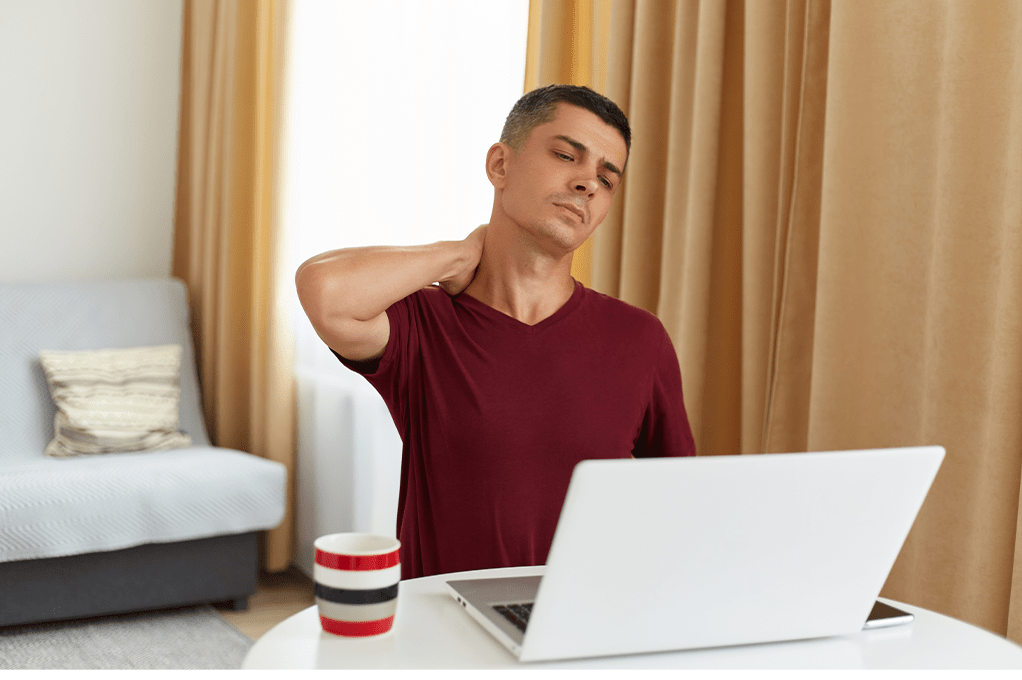 5 things remote workers should do to reduce musculoskeletal injuries
Did you know that remote workers are at a greater risk of developing work-related health issues? Sitting all day can lead to obesity, musculoskeletal (MSK) injuries, heart disease, and diabetes.* Don't worry, though. You may do a few things to stay healthy while working from home. Here are four solutions for better health in a remote work environment.
The Health Effects of Remote Work
There are several advantages to working from home, but there are a few drawbacks as well. A survey of 988 people who work from home found that many reported poorer physical and mental well-being. They also noted an increase in physical and mental health problems.*
According to another research, many people who work remotely have neck pain and other musculoskeletal problems. The researchers found that these issues can lead to job dissatisfaction.*
There are many things to consider when working from home. It is critical to understand how to promote a good work-from-home experience and avoid health problems.
5 ways remote workers can reduce musculoskeletal injuries
Working from home can be a fantastic option for remote employees. However, there are certain perils that virtual employees need to be aware of. Here are five ways to improve your remote work experience and prevent MSK injuries.
1.Take Frequent Breaks
It is critical to take breaks throughout the day to avoid injury and fatigue, particularly if you work from home. Get up and walk to the kitchen to pour yourself a cup of coffee or tea. Practice focusing your gaze in the distance to help relieve eye strain. Make a nutritious meal or walk around the block for a quick mental break. Breaks are critical to having a healthy work-from-home experience.
2.Set Up an Ergonomic Workspace
If you work from home, it's critical to creating a proper working environment. Good ergonomics can prevent work-related injuries.* Make sure you have a comfortable chair and that your computer monitor is at eye level. It would help if you also had an ergonomic mouse and keyboard to avoid strain on your hands and wrists. Sit in a comfortable position with your feet flat on the floor.
3.Get Some Exercise
Exercise is an essential part of preventing MSK injuries. It's easy to forget to move around when you' re sitting at your desk all day, but it's necessary to make sure you' re getting up and moving. Try to take a break every hour to move and stretch your muscles. You can also go for a walk or do some light exercises to get your blood flowing. Exercising will help keep your muscles and joints strong and healthy, which will help prevent injuries.*
4.Get an Occupational MSK Risk Assessment
Knowing your musculoskeletal risks while performing your job duties is the first step towards preventing injuries. Your job duties may seem usual and easy, but even the simplest tasks like lifting a piece of paper from the floor can injure your lower back. Most of the time, these injuries result from constant over-pressure on the body due to high-risk activities incurred during your occupational journey. Identifying these risks can help you prevent or early-manage such injuries. With technological advancement, specialized software can assess these work-related risk factors and provide a comprehensive report and personalized exercise programs and educational content.
5.Try Online Physical Therapy
Physical therapy is often one of the first treatments recommended for MSK injuries. But not everyone has access to a physical therapist or the time to go to physical therapy appointments. Online physical therapy is a great way to get the treatment you need without having to leave home. Telemedicine physical therapy has many proven advantages.*. You can find online physical therapists at TheraNow. They provide treatment plans, exercises, and patient education.
References
•https://pubmed.ncbi.nlm.nih.gov/29190048
•https://www.ncbi.nlm.nih.gov/pmc/articles/PMC7934324
•https://www.ncbi.nlm.nih.gov/pmc/articles/PMC7503869/
•https://pubmed.ncbi.nlm.nih.gov/8887383/
•https://pubmed.ncbi.nlm.nih.gov/26125174/
•https://pubmed.ncbi.nlm.nih.gov/34287208/